Latest News
Check out also news specific to our current restoration on 928 Schools class Stowe
by clicking here to find its Facebook page.
LATEST - April 2020
Firstly, apologies for the lack of updates since 2015 – hopefully Maunsell enthusiasts have been following the work on our Stowe Facebook page. 
Since the last up-date in 2015 – big strides had been made with the project:-
The chassis had been dismantled, driving wheel tyres re-profiled, axle boxes re-metalled and
machined, bogie checked over and chassis re-wheeled at the end of 2018.
A new cab roof skin had been assembled and fitted.
New cylinder claddings fabricated and fitted.
The brake gear overhauled and re-instated.
Numerous cab and boiler fittings have been refurbished. 
As at the middle of March 2020 a start had been made on checking over and replacing worn large diameter copper pipework, where required.
As regards the boiler:-
The bottom half of the steel outer firebox has had new steel plate welded in. 
Likewise the bottom half of the sides of the copper inner firebox has had new copper platework welded into place by a specialist contractor. 
The copper doorplate and tubeplate have been repaired and the whole copper inner firebox riveted back together. 
The work to the inner firebox has been undertaken by a private contractor and the re-assembled inner firebox is now back at the Bluebell Railway. Once repairs to the boiler of 34059 'Sir Archibald Sinclair's are completed in Bluebell's workshop at Sheffield Park – we understand Stowe's boiler will be the next job to be tackled by the Bluebell boilersmiths.
As with all other Heritage Railways and tourist attractions, our host railway, the Bluebell Railway is closed for the duration of the Covid 19 Pandemic. Thus our workforce are not able to proceed with the major overhaul of Stowe at present.
Work was also done on 'Stowe'. The area surrounding her frames were tidied, allowing them be more easily accessed. The new boiler backhead also recently arrived at Sheffield Park, from the South Devon Railway at Buckfastleigh (see photo).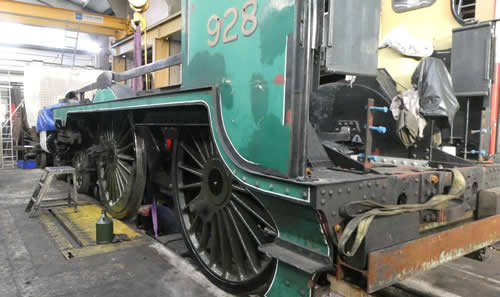 Frames are lifted
Mated with frames
Piston heads out and below, front bogie is prepared (pic D Jones)
Second coat of paint goes on the driving wheels

the cab roof in position

---

Friday 23rd October 2015
Photo Right: S15 No.847 at Sheffield Park alongside BR Standard 5MT 73082 'Camelot', which is currently undergoing testing following overhaul.

Photo: David Jones
Photo:Ben Coughlan